「ミノカモレストラン in London 2days 。2日目は美味しい チーズ屋さん、Provisionsで開店します!」
2016年5月18日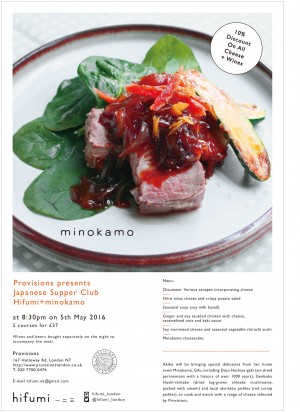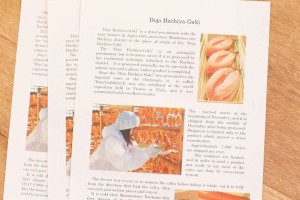 こちらでも、美濃加茂市特産の堂上蜂屋柿、三和町産の原木椎茸、ロンドンの食材、そしてチーズをふんだんに使った料理をご提供します。ワインもすすんじゃいそうです!
お料理から少しでも、日本、岐阜県のこと、故郷の美濃加茂市の美味しいこと知っていただけたら嬉しいです。
Hifumi + minokamo Supper Club #2
Date: Thursday 5th May 2016
Time: 8:30pm
Location: Provisions 167 Holloway Road N7 8LX
Tickets: £37 for 6 courses of Japanese dishes incorporating cheese selected by Provisions.
Menu:
– Otumami
– Shiro-miso, cheese and crispy potato salad
– Seasonal soup
– Ginger soy sauté of chicken with cheese and caramelised nuts & kaki sauce
– Chirashi sushi topped with soy marinated cheese & vegetables
– Minokamo cheesecake
Drinks: An optional flight of delicious wines to complement the food for £20. Otherwise a wide selection of wines and beers will be available to purchase on the night.
Plus 10% discount on cheese and wine to take home from Provisions during the event!
E-mail hifumi.uk@gmail.com to reserve a ticket.
Please advise of dietary requirements prior to booking.